Capital of Turkey: Ankara
Ankara, formerly known as Ancyra and Angora, is the capital of Turkey, located in Central Anatolia. With a population of 4,587,558 in the urban center (2014) and 5,150,072 in its province (2015), it is Turkey's second-largest city behind Istanbul.
Ankara became Atatürk's headquarters in 1920 and has held the title of the Republic of Turkey's capital since 1923, replacing Istanbul after the Ottoman Empire's collapse. While the government is a significant employer, Ankara thrives as a crucial commercial and industrial hub at the heart of Turkey's road and rail systems. The city is famous for Angora wool, which is sheared from Angora rabbits, long-haired Angora goats (which produce mohair), and Angora cats. The region is also renowned for its pears, honey, and muscat grapes. Despite its location in one of Turkey's driest areas, surrounded primarily by steppe vegetation except for forested zones on the southern outskirts, Ankara can be deemed a green city, offering 775 square feet of green space per resident.
Ankara's rich history includes Hittite, Phrygian, Hellenistic, Roman, Byzantine, and Ottoman archaeological sites. The city's historical core is centered around a rocky hill that rises 492 feet above the left bank of the Ankara Çayı, a tributary of the Sakarya River or classical Sangarius. The hill is topped with the remnants of an ancient citadel. Though few of its outer structures remain, well-preserved examples of Roman and Ottoman architecture can be found throughout the city. The 20 BC Temple of Augustus and Rome are particularly notable for housing the Monumentum Ancyranum. This inscription documents the Res Gestae Divi Augusti.
A Glimpse into Ankara's History
Ankara experienced a period during which it changed hands multiple times, with the Galatians, Romans, Byzantines, and Seljuks contributing to its development. However, as power remained centered in Istanbul, Ankara never truly expanded beyond a relatively unimportant provincial city.
Ankara gained historical significance in 1402 when Turkic ruler Timur defeated the Ottomans at the Battle of Ankara. By the following year, however, the Sultans had reclaimed the city and once again faded into relative obscurity.
The situation shifted after World War I when the Ottoman Army's defeat in 1919 led to the Allied Forces seizing control of Istanbul. Mustafa Kemal Atatürk, Turkey's first president, selected Ankara as the command center for the nationalist resistance.
In 1923, the Turkish Grand National Assembly voted to permanently relocate the capital to Ankara. The city began to grow, and in 1929, the Turkish Government held a competition for an international architect to design their capital. German architect Hermann Jansen won but designed the city primarily for middle- and upper-class residents. Consequently, the poorly built makeshift houses known as gecekondular on the city's outskirts.
Jansen's plans were never fully executed, and he requested his name be removed from the project in 1938. Ankara expanded organically, with new districts like Yenişehir and Kızılay replacing the Ottoman-era structures that once dominated Jansen's streets.
Today's Ankara presents an intriguing fusion of modern and ancient elements. Although smaller than Istanbul, it is Turkey's second most populous city.
Ankara's Rich Cultural and Historical Attractions
Ankara's architecture showcases its diverse history, with remnants from various historical periods. Roman-era structures include a bathhouse, the Column of Julian, and the Temple of Roma and Augustus. Byzantine traces feature the citadel and a cemetery. The square Alâeddin Mosque, with a single minaret, is near the walled citadel and hails from the Seljuq period. Numerous Ottoman buildings, such as the Hacı Bayram Cami (1427–28), the Mahmud Paşa market, and the Kurşunlu Han, now host the Museum of Anatolian Civilizations.
While government dominates the city's commerce, Ankara also stands as Turkey's second-largest industrial hub after Istanbul. Established industries include the production of wine, beer, flour, sugar, pasta, biscuits, milk, cement, mosaic paving, construction materials, and tractors. The service and tourism sectors are growing rapidly as well.
Ankara is a critical trade crossroads and a central junction in Turkey's road network. The city is positioned on the primary east-west railway across Anatolia, and Esenboğa Airport, situated to the northeast, offers international services.
Ankara hosts several universities, such as the University of Ankara (1946), Hacettepe University (1967), and the Middle East Technical University (1956), as well as the National Library, the state theatre, and the Presidential Symphony Orchestra.
Numerous museums in Ankara provide a comprehensive view of Anatolian history and are housed in refurbished Ottoman buildings. The most notable is the Museum of Anatolian Civilizations (boasting an exceptional Hittite collection) and the Ethnographic Museum (featuring exhibits on Turkish history, folklore, and art). The Atatürk Mausoleum encompasses the Atatürk Museum, displaying many of Atatürk's personal belongings.
Anitkabir: Ataturk's Mausoleum
The final resting place of Mustafa Kemal Ataturk, Anitkabir, is a revered national monument that reflects the founder's vision for a modern, progressive Turkey. The mausoleum's architectural design is a testament to the fusion of ancient and contemporary influences.
Visitors can tour the mausoleum, marvel at its imposing architecture, and pay their respects at Ataturk's tomb. The on-site museum houses a collection of artifacts and personal belongings that provide a glimpse into his life and leadership.
The Museum of Anatolian Civilizations
This world-renowned museum showcases the rich history of the Anatolian region, featuring artifacts from prehistoric times to the Ottoman Empire. Its extensive collection includes pieces from the Hittite, Phrygian, and Urartian civilizations.
Noteworthy exhibits include the King Midas golden artifacts, the Hittite sun course, and an array of ancient sculptures and pottery. The museum offers guided tours, audio guides, and interactive displays to help visitors delve deeper into the region's history.
Haci Bayram Mosque and the Temple of Augustus
Located in the heart of Ankara's old town, the Haci Bayram Mosque is a revered religious site from the 15th century. Adjacent to the mosque, the Temple of Augustus is a Roman-era monument that bears witness to the city's ancient origins.
The mosque's stunning architecture blends Seljuk and Ottoman styles. At the same time, the temple features well-preserved inscriptions detailing the deeds of Emperor Augustus. Visitors can explore both sites and soak in their historical and spiritual ambiance.
The Vibrant Food Scene in Ankara
Traditional Turkish cuisine
Turkish cuisine is a delicious mix of Mediterranean, Middle Eastern, and Central Asian flavors. Must-try dishes include succulent kebabs, mouthwatering meze platters, and decadent baklava. Take advantage of the local specialty, Ankara simidi, a sesame-encrusted bread ring.
Ankara's street food scene offers a variety of tasty treats like gözleme (stuffed flatbread), çiğ köfte (raw meatballs), and çorba (soup). Be sure to sample the ubiquitous simit, a circular bread often served with tea.
Restaurants and eateries
To experience the best of Ankara's food scene, consider trying out restaurants like Trilye, which serves delicious seafood dishes, or Kebap 49, known for its scrumptious kebabs. For a taste of authentic Turkish home cooking, head to Sofra Restaurant.
For an unforgettable dining experience, visit the historic Ulus neighborhood, where traditional eateries serve mouthwatering fare. Popular options include Aspava and Kale Cafe, which offer stunning city views.
Food tours and cooking classes
Consider joining a food tour or cooking class to understand Turkish cuisine better. These experiences allow you to sample various dishes, learn about local ingredients, and even try to prepare traditional recipes.
Cookistan and Turkish Flavours are two popular options for cooking classes in Ankara. They offer courses catering to different skill levels and culinary interests, making them ideal for food-loving travelers.
Getting Around Ankara
Transportation options
Ankara boasts a well-developed public transportation system, including buses, a modern metro network, and shared minibusses known as Dolmus. These options are affordable and convenient, making it easy to explore the city.
Taxis are widely available throughout the city, though be sure to negotiate the fare or insist on using the meter. Car rentals and ride-sharing services like Uber and BiTaksi are famous for getting around Ankara.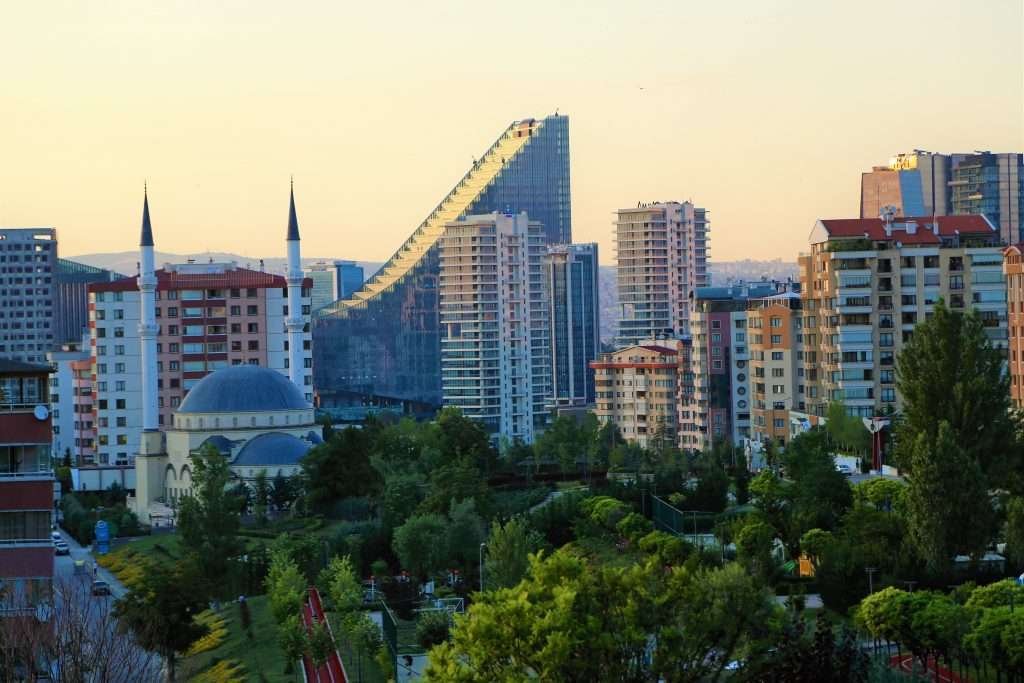 When using public transportation or visiting religious sites, it's essential to be mindful of local customs and dress modestly. Additionally, learning a few basic Turkish phrases can go a long way in making your trip more enjoyable.
Ankara is generally a safe city for tourists. Still, exercising common sense and being aware of your surroundings is essential. Avoid displaying valuables, and keep an eye on your belongings, especially in crowded areas.
Must-have travel apps
Consider downloading a few helpful apps to make the most of your visit to Ankara. For navigation, try Google Maps or the local favorite, Yandex Maps. Google Translate is invaluable for overcoming language barriers. At the same time, Foursquare and TripAdvisor can offer local recommendations for restaurants, attractions, and more.
Planning Your Trip
Best time to visit Ankara
The ideal time to visit Ankara is during the spring (April-May) and fall (September-October) months when the weather is mild and comfortable. Winter can be cold and snowy, while summers are hot and dry.
Visa requirements for travelers
Tourists need an e-visa to enter Turkey. The application process is straightforward and can be completed online via the official Turkish e-visa website. Be sure to apply well before your trip to avoid any last-minute complications.
Accommodations
Kavaklidere and Kizilay are popular neighborhoods for visitors, offering a range of accommodations, restaurants, and attractions within walking distance. For a more authentic experience, consider staying in the historic Ulus neighborhood.
Ankara offers a variety of accommodation options to suit all budgets, from luxury hotels like the JW Marriott Ankara to budget-friendly hostels and Airbnb rentals. Book early, especially during peak travel seasons, to secure the best deals.
Currency, tipping, and budgeting tips
The official currency of Turkey is the Turkish Lira (TRY). It's a good idea to familiarize yourself with the exchange rate before your trip and carry some local currency for small purchases.
Tipping is customary in Turkey, with 10-15% being the standard rate for restaurants and taxis. A few lines per day or per service is appreciated by hotel staff.
Ankara is an affordable destination for travelers. On average, budget around $50-$60 per day for accommodations, $30-$40 for meals, and $10-$20 for transportation and attractions.
Beyond Ankara: Exploring More of Turkey
Nearby cities and attractions
Cappadocia: A few hours from Ankara, Cappadocia is known for its surreal landscapes, underground cities, and magical hot air balloon rides. This enchanting region is a must-visit for anyone traveling to Turkey.
Istanbul: Istanbul, Turkey's largest city, is a captivating blend of ancient history and modern energy. Explore the iconic Hagia Sophia, Blue Mosque, and Grand Bazaar before enjoying a traditional Turkish bath or a cruise on the Bosphorus.
Pamukkale: Famed for its striking white travertine terraces and natural hot springs, Pamukkale is a UNESCO World Heritage Site that offers a unique combination of natural beauty and ancient history.
Recommended itineraries for travelers
For a 10-day trip, consider spending 3 days in Ankara, 3 days in Cappadocia, and 4 days in Istanbul. For a 14-day itinerary, add in visits to Pamukkale, Ephesus, and the Mediterranean coast.
To make the most of your time in Turkey, consider joining guided tours, booking domestic flights or overnight buses to cover long distances, and allotting free time for spontaneous exploration. A well-planned itinerary will ensure you experience the best of what each destination offers without feeling rushed or overwhelmed.
What did we learn today?
Today, we've delved into the fascinating world of Ankara, Turkey's capital city. We've learned about its rich history, which dates back thousands of years, and its rise to prominence as the center of modern Turkey. We've also discovered the city's vibrant cultural attractions, mouthwatering food scene, and practical travel tips for visitors.
By exploring the Ankara hidden gem, we've gained a deeper understanding of the Turkish way of life, far beyond the more famous destinations like Istanbul and Cappadocia. This multifaceted city offers an intriguing mix of ancient history, cultural experiences, and modern amenities that cater to diverse interests and preferences.
Now that we've uncovered Ankara's many treasures, we hope you're inspired to learn even more about this captivating city. Suppose you have any questions, insights, or personal experiences from your own travels to the capital of Turkey. In that case, we invite you to share them in the comments below. Let's continue learning and exploring together!
Sources: