Rabati Castle: Bridging Eras in Akhaltsikhe, Georgia
In the heart of Akhaltsikhe city, Rabati Castle stands as a living testament to the region's vibrant history and cultural amalgam. This ancient fortress, also known as Akhaltsikhe Castle, rests along the serene banks of the Potskhoviskali River, elevated at 1000 meters above sea level. With its origins dating back to the 9th century, Rabati Castle is a picturesque gateway to Georgia's historical tapestry, beckoning tourists to explore the myriad tales enshrined within its venerable stones.
Historical Epochs
Embarking on a journey through Rabati Castle's chronicles transports visitors back to an era when it was known as "Lomsia." The fortress underwent a significant reconstruction in the 12th century under the stewardship of Bashken II Jackel, at the behest of Davit Agmashenebeli, to fortify against Seljuk invasions, marking the dawn of the "Akhaltsikhe" era.
Over subsequent centuries, Rabati Castle transitioned into a noble residence, and Akhaltsikhe burgeoned as a crucial trade, cultural, and administrative nucleus of Samtskhi. The dominion of the castle oscillated between various empires, reflecting the geopolitical flux of the region over the ages.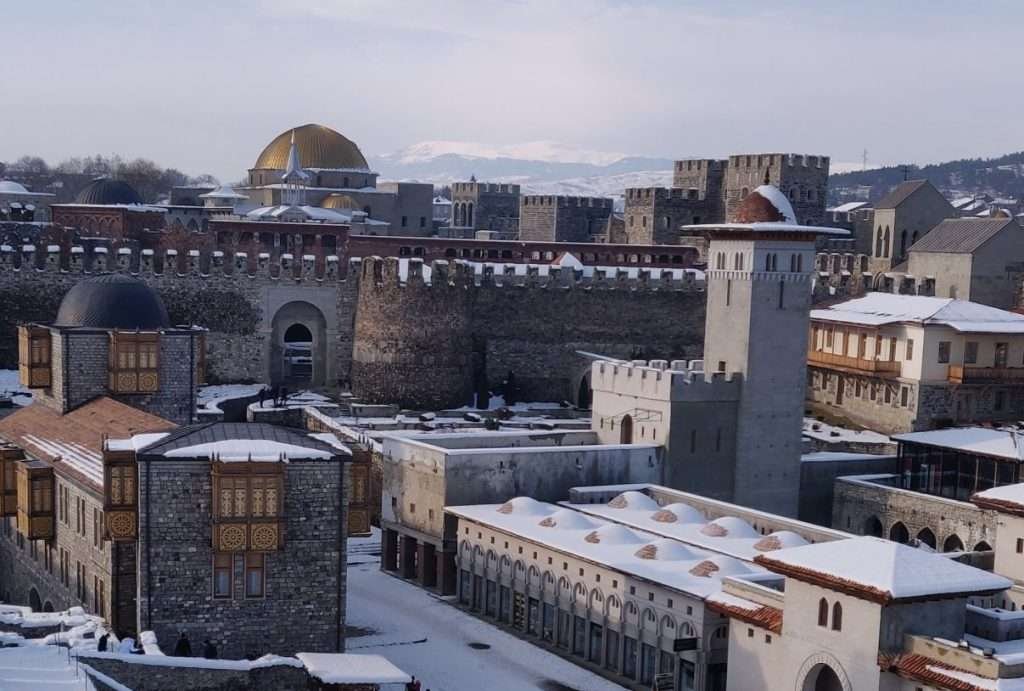 Architectural Mélange
The architectural tableau of Rabati Castle unveils a mélange of historical influences manifested in its eclectic range of structures. The castle complex is adorned with an ancient Orthodox temple, the Haji Akhmed-Pasha Jakeli Mosque, a madrasa, a minaret, and the Jakeli palace, which presently hosts the Samtskhe-Javakheti History Museum.
A substantial restoration endeavour between 2011 and 2012 rejuvenated the castle's towers, bridging the architectural aesthetics of yore with contemporary restoration techniques. The dual-tiered fortification encases a lush garden, historical religious buildings, and a museum, offering a tactile voyage through Georgia's historical epochs.
Modern-day Exploration
Today, Rabati Castle extends a warm invitation to tourists, offering a harmonious blend of historical exploration and modern-day amenities. Visitors traverse through the ancient castle walls, delve into historical monuments, and appreciate the scenic beauty from the castle's elevated vantage points. They are enveloped in a narrative that transcends time.
The Ahmetiya Mosque within the castle yard, along with other restored towers, provide a tangible link to Georgia's historical eras. Contemporary conveniences like the Hotel "Rabati," a wine shop, and various tourist services complement the ancient ambience, crafting a unique exploratory experience.
Visitor Information
Location:

 Akhaltsikhe, Georgia

Working Hours:

First level of the walls: Open throughout the day (Free)

Second level walls: 10:00 – 19:00 (7 GEL prices may vary; it's advisable to check the latest rates before visiting)

Museum: 10:00 – 18:00 (Included in the price)
Epilogue
Rabati Castle is more than a mere historical monument; it's a narrative woven through the heart of Akhaltsikhe, narrating tales of bygone eras to every visitor. Through its enduring stones, it recounts stories of historical trials, triumphs, and the indomitable spirit of Georgia, making it an essential sojourn for anyone keen on immersing themselves in the rich historical and cultural ethos of Georgia.